https://pbs.twimg.com/media/CVxJ1MKWsAAZxLZ.jpg
England international left-back Wayne Bridge moved to Chelsea from Southampton in 2003. The Blues paid £7m plus Graeme Le Saux to secure the transfer of the player. He was a regular in the Chelsea team in his debut season at the club. Wayne Bridge produced his finest moment in an Arsenal shirt as he found the back of the net with a very good goal to give Chelsea a 2-1 win away from home in their Champions League quarterfinal second leg clash. His goal gave the Blues a 3-2 aggregate win as they progressed into the last four of the competition. It also ended a run of 18 games without a win for Chelsea in all competitions.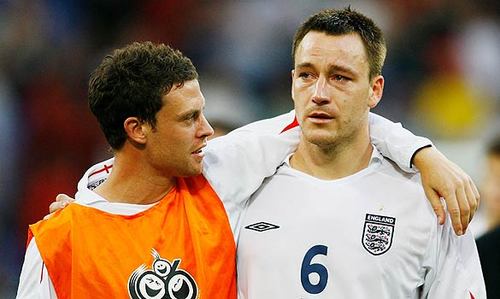 Wayne Bridge won his first trophy at Chelsea with the Premier League title at the end of the 2004/05 season under manager Jose Mourinho. The left-back started the season as the first choice before he sustained an ankle injury during an FA Cup tie with Newcastle United in February 2014. He was absent for the remainder of the season but the player had already made 15 appearances in the league, which was more than enough for a medal.
Chelsea signed Spaniard Asier Del Hornoin 2005 and he was installed the first choice ahead of Wayne Bridge immediately. Bridge was restricted to just two games in all competitions (both coming in the cup) and that prompted him to sign for West London rivals Fulham on loan for the second half of the 2005/06 season.
In addition to the 2004/05 Premier League title, Wayne Bridge won two cup competitions with Chelsea during the 2006/07 season. He featured in the 2007 League Cup final as Chelsea beat Arsenal 2-1 to competition. He also played his part as Chelsea saw off rivals Manchester United 1-0 in the 2007 FA Cup final to win the competition.